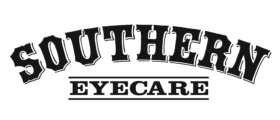 How long does a comprehensive eye examination take?
On average, your eye examination takes about an hour and varies depending on if you are interested in glasses and/or contact lenses.
What if I do not have vision insurance?
We accept most vision and medical insurance plans. If you have major medical insurance, you may have a yearly routine vision exam included. Call our office today and we would be glad to answer any insurance questions regarding eligibility. (972) 636-EYES (3937)
What should I bring to my appointment?
Please bring your driver's license or identification card, a list of medications, and your major medical insurance card. If you are a current contact lens wearer, it is helpful to bring your contact lens prescription or a box for each eye that has your last prescription listed on it. Please bring any glasses that you currently wear, including back up glasses, driving glasses, and sunglasses. You will not have paperwork that needs to be filled out but we do ask that you arrive 10 minutes before your scheduled appointment.
Can my family members or friends come with me into the examination room?
Family and friends are always welcome in our office, however, space is very limited in the examination room. Only two members are allowed in the room with the patient at one time. Thank you for your understanding.
What is the difference between a vision screening and a comprehensive eye examination?
Vision screenings are a limited process and cannot be used to diagnose an eye or vision problem, but rather may indicate a potential need for further evaluation. They may miss as many as 60% of children with vision problems. Passing a vision screening can give parents a false sense of security. Professional examinations are the only effective way to confirm or rule out the presence of any eye disease or vision problem.
When should I have my child's eyes examined for the first time?
By age 3, your child should have a thorough optometric eye examination to make sure his or her vision is developing properly and there is no evidence of eye disease. If needed, your doctor of optometry can prescribe treatment, including eyeglasses and/or vision therapy, to correct a vision development problem. A child should definitely have their eyes examined before starting Kindergarten and every year thereafter while in school. As a child is growing, their eyes are developing and vision may change very quickly.
Southern Eyecare is now open. Our hours and contact info remain the same and, of course, you'll continue to receive the same great quality eye care. Please note our new location:
Southern Eyecare
7252 F.M. 35
Royse City, TX 75189
Have a Question?
(972) 636- 3937 (EYES)
Tuesday – Friday
7 am – 5 pm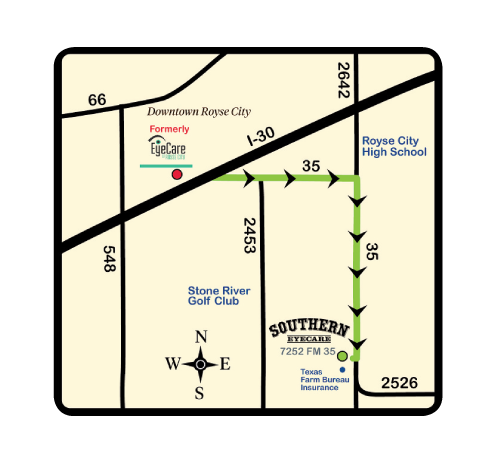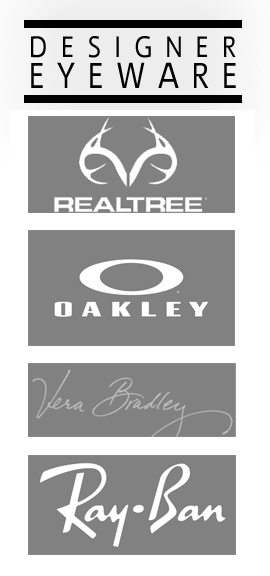 The Vera Bradley Collection
EyeCare of Royse City is an exclusive Vera Bradley dealer. Come by today and pick out your favorite pair.